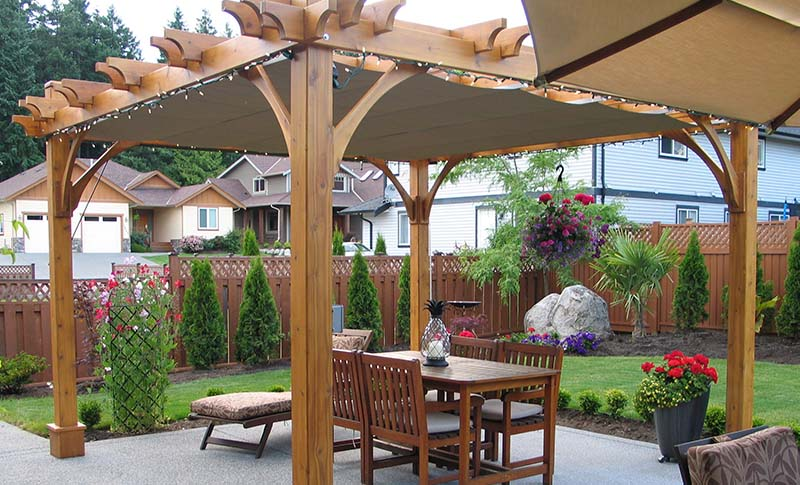 If your yard has a pergola, you may have spent uncountable hours enjoying its privacy and shade. The pergola is an open beam structure that adds definition to any outdoor living area. It also creates a comfortable nook for your family, guests, and outdoor plants.
Since the structure is outdoor, it is subject to harsh weather conditions – less than zero temperatures, extremely hot summer months, and rainy days. Over time, mildew and mold attach themselves to this structure, thereby, changing its look and attracting so much dirt. You may want to check out here to know how to clean mold off outdoor furniture.
Whether your pergola was made from wood or vinyl materials, it is important to maintain the structure. This maintenance will help to retain its beauty and elongate the lifespan.
Steps to Maintaining a Pergola
The following are steps to maintaining a pergola:
Step One
A pergola is made from metal, plastic, vinyl, or wood. Irrespective of what material yours is made of, the first step to maintaining it is to hose it down. Remove any object or furniture under or around the structure.
Use a water hose with high pressure to loosen the debris and dirt from the surface areas. But you need to be careful when setting the water pressure if the structure is a vinyl covering or delicate wood to avoid damaging it.
Step Two
The next step is to get a suitable cleaner. Apply a small quantity on a clean rag, then attach it to a brush that has flexible bristles. Use the combo to scrub the cleanser into the crevices and cracks. When trying to clean a hard-to-reach area, use a tiny brush to dislodge hidden debris or dirt.
Also, remove any peeling paint or wood splinters you find. If your pergola is metal, check for rusted areas, then scrub them off vigorously using a strong bristle brush. When cleaning a vinyl surface, it is important to follow the direction of the cleaning agent manufacturer. Most vinyls respond well to mild scrubbing when you use a mild cleaning agent.
Step Three
After brushing the structure, rinse it thoroughly with the high-pressure hose. Examine the structure to see if there are stubborn stains that require extra attention. If necessary, repeat the cleaning for such areas.
Step Four
This step involves the use of any restoration methods like a touch-up or repair kit to work on damaged or pitted sections. You can use metal or wood putty on dings and cuts where necessary. When they are dry, sand the surfaces smoothly in preparation for refinishing. You can use the repair kit to repaint or re-stain the damaged parts.
Furthermore, you can repair any damaged vinyl parts by snipping them out. Most vinyl pergolas come as pre-assembled kits and usually contain small repair kits that you can use to snip out and repair damaged portions.
Step Five
Thoroughly inspect the connections on the pergola to ensure that there are no loose ones. You can repeat the cleaning process three times every year or more to improve the function and appearance of the structure. You can also seek help from Pergola Installers if you do not have the free time to clean your pergola.
Helpful Tips for Maintaining a Pergola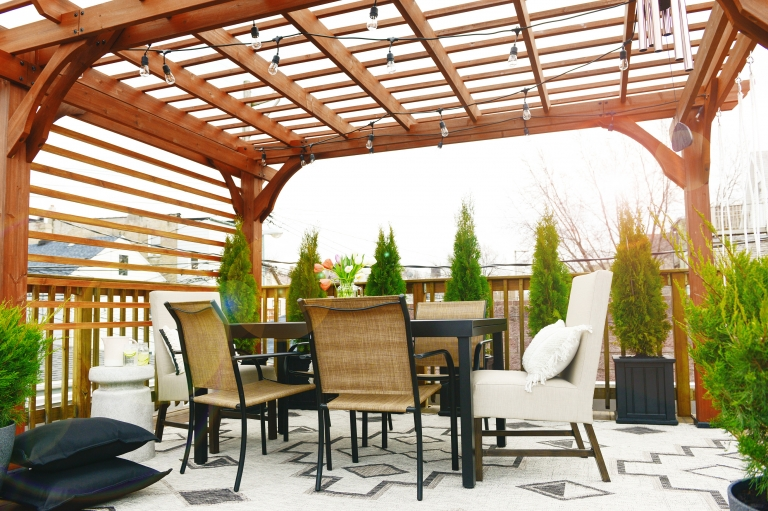 Vinyl
You need to choose a suitable cleaner when cleaning and maintaining a vinyl pergola. You can start with warm water and a general detergent. Use a non-abrasive, soft cloth to wipe the surface. A simple wipe will remove dirt from the surface areas and enhance the appearance.
For scuff marks and stains, you can use a foamy melamine cleaner. Dampen it with lukewarm water, then apply pressure that is enough to dissolve the stains. Do not be aggressive when doing this to avoid removing the vinyl's glossy surface.
Furthermore, when you encounter a sticky substance like tar, sticker, or gum, use an approved outdoor vinyl product that can take care of sticky issues. And if you have not been observing the basic cleaning and care practices, you will have much debris and dirt to deal with. The first thing to do in such a case is to pressure-wash the pergola.
However, when pressure-washing vinyl structures, ensure you set the pressure to the lowest setting. High pressure can damage the vinyl sleeves, post skirts, lattice, and trim work. Ensure you check the recommended setting on the manual of the washer before you begin.
Wood
Applying the general cleaning method will make your pergola look new all year. You can use warm water with a multi-purpose cleaner and a brush with soft bristles to remove debris and dirt. If you notice cracks and checks on the wood, use a small quantity of stain to touch up the affected areas.
Generally, wood pergolas require complete re-staining after every three years. However, it may come sooner or later depending on where you mount the structure. If it is under a shade, it will get less abuse from sun and wind, and the stain will stay for a longer period. But if it sits directly in the sun, the stain will quickly wear away.
It is, therefore, advisable to re-stain a wooden pergola when you notice a wearing down of the stain. Water or oil-based stain will do the job. Simply use your staining brush to apply the stain and try to make the coat even. You may want to watch this video to see how to stain your pergola.
Also, if you own a sprayer, you can use it to spray the wood. But ensure you protect and tarp off areas where you do not want stains like furniture, patio floor, or vinyl parts around the structure.
Conclusion
A pergola beautifies our outdoor space and gives us shade and comfort when outdoors. Therefore, we need to keep it clean. Also, the space around it should be free from debris or dirt. Maintaining the structure will help it to appear its best always. You cannot simply quantify the feeling you get when you bring family and friends under a well-maintained pergola.