Love is the most beautiful feeling in the whole world and often we show love to our loved ones through some gestures. Love is having a deep attraction or liking for someone, for whom we can things we never thought we would. Nowadays people express their love through gifts and making some efforts. And chocolates are the best way to express your liking and emotions towards someone. Also, everyone admires chocolate but girls admire chocolate the most like a child. So if it is your lady's birthday, your anniversary or you just want to be romantic than here we are with a list of delicious chocolates to impress your lady.
1. Heart Sprinkled Chocolate dipped Oreos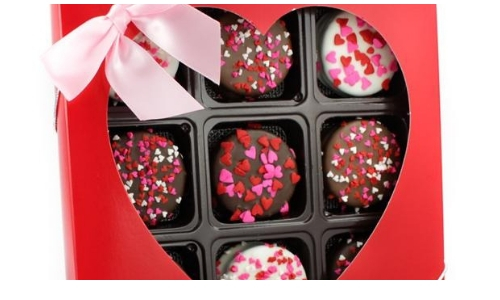 Oreos are trending and they are becoming everyone's favorite biscuits. And here it has a twist these Oreos are dipped in white and milk chocolate which will give them a thick chocolate coating. Later heart-shaped sprinkles are sprinkled on them to make them more romantic. There are some 9 Oreo biscuits presented in a gold box and a gold ribbon tied over it. The box makes a heart shape see through at the center of the box. Believe me, this is the perfect gift for anyone and especially your lady to impress her.
2.Chocolate Gourmet
This box can be gifted to dear ones to send them love and wishing them for anniversaries or birthdays. Thus it will make a really nice gift for your better half so spoil her with these delicious chocolates. The wooden basket contains gourmet chocolates, candies, and chocolate bars. The lip-smacking chocolate will delight your beloved and it will leave a mouth-watering taste. Chocolates are also a symbol of love and commitment. If you want to express your feelings then propose her with this Basket of Chocolate gourmet.
3.Coupling of Chocolates with Roses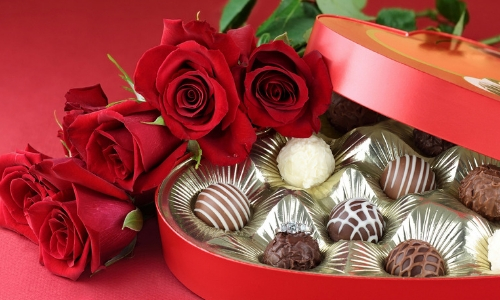 Girls are fond of two thing things in life flowers and chocolates. They can go head over heels for the person who loves them and expresses love through chocolates and flowers. And remember an expensive gift cannot do wonders like a combo of chocolates and flowers. Also, Fresh blooming Roses and yummy chocolates pair represent Immortal love. So if you want to impress your girl or confess your love then go for this bouquet of Roses and a box of chocolate, it will never fail you.
4.All Baby Ruth Bouquet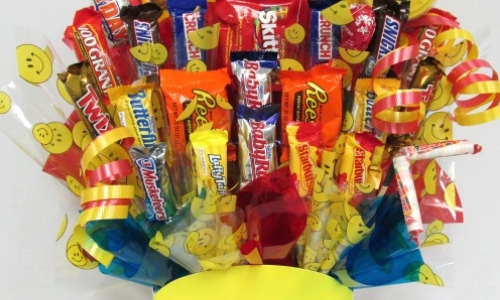 Baby Ruth Chocolate bar is a delicious mixture of peanuts, caramel, chocolate flavor nougat, and compound chocolate. They function as energy bars too and it would be one of the beautiful and best gifts if your girl is a workaholic and skips her meals. We have decorated these Baby Ruth Chocolate bars in form of a flower Bouquet to give it Romantic look. The bouquet is decorated with red ribbons and green decorative wrapper to give it a look of flower bouquet and make it attractive. The Bouquet consists of 23 fun size bars and 11 large bars.
5.Chocolate Covered Chips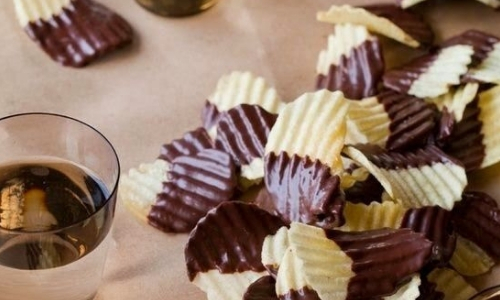 This is one of the most unique snacks. It is a combination of chips and chocolates. The Potato Chips are half dipped in chocolate giving it the balanced taste of both salty and crunchy chip. The Chocolate used here is from artisanal chocolatiers to make sure it gives the consumer rich taste of handcrafted chocolate in a single bite. These Potato chips are hand dipped, so that every chip is alike. Send Chocolates online to your friends and family to pass on birthday or anniversary wishes.
6.Milk and Dark Chocolate Covered Strawberries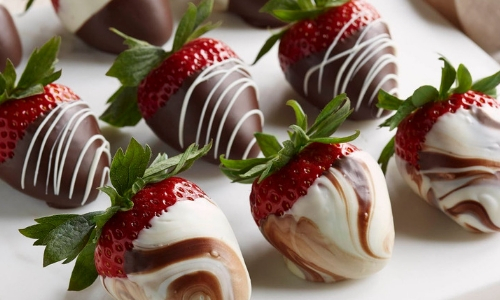 The fresh strawberries are handpicked from the farms so that it provides that sour zest to the consumers. And they are hand dipped in the gourmet milk and dark chocolate. This is the perfect combination if your lady admires a combination of both sour and sweet. These strawberries are beautifully decorated and packed in an iconic gold gift box. This is pure delight for your loved one. Make online gift delivery and surprise your loved ones on their birthday.
These sweet token of love will impress your woman and take your relationship to extra mile and make it stronger and long-lasting.