Business
OLA Electric Scooter and Car will be Done by 2023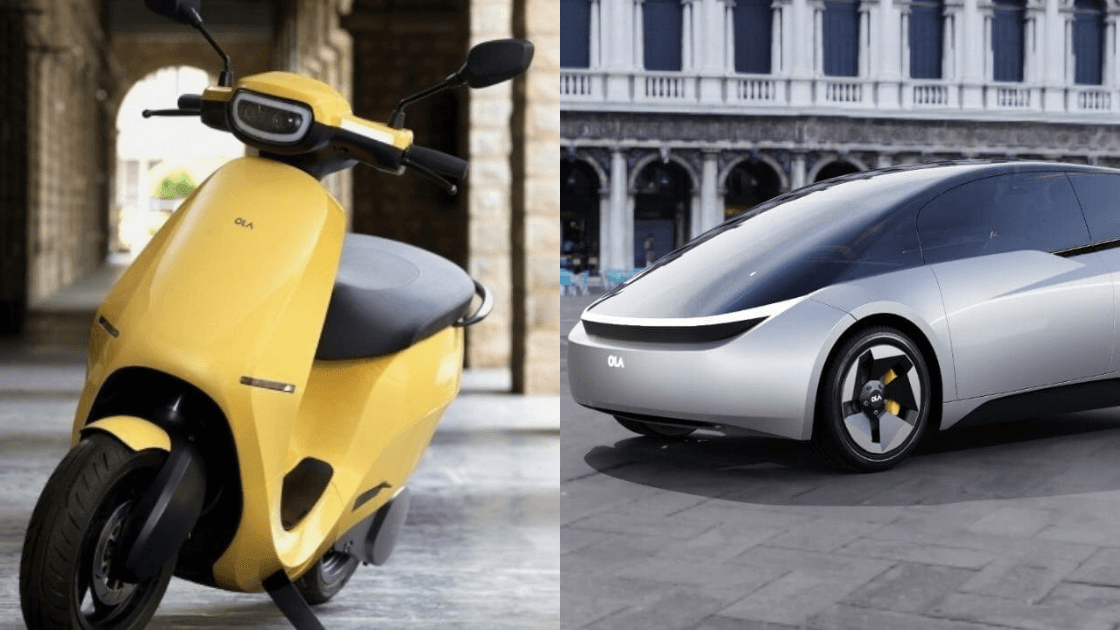 Ola Electric – The Future of Mobility
Ola Electric is well-known for its low-cost and high-performance electric scooters. Based in Bangalore, India, Ola Electric is a two-wheeler manufacturer and the future of mobility with its most advanced electric scooters.
The real motive of the company is to reduce emission and fuel dependency and be one of its kind in promoting mass electric mobility.
Ola Electrics is a fine producer of scooters run by batteries and is soon to launch its very own Ola Electric Car.
Ola Electric Scooters
Almost for a year now, Ola Electric has been the talk of the town for its Electric Scooter being the best in India's high volume two-wheeler market. On 15th August 2021, Ola Electric launched two variants of e-scooters: S1 and S1 Pro. Since then Ola Company is determined to inspire its consumers with innovations.
Ola e-scooters are fast and powerful and give competitors a run to up their game. In the first 24 hours of its launch, Ola Electric was able to secure its position by generating ₹400 crores of revenue.
One of the most important reasons for its immediate success is that Ola Electric Scooters are focused on the environment and emissions. These e-scooters are driven by fossil fuels and their electric batteries add an element of environmental responsibility of protecting the world from various harmful vehicle emissions.
Another cause of the success is the enormous ambitions of Bhavaish Agarwal, CEO Ola, behind the production of Ola Electric Scooters. To bring back innovation in the scooter market almost a decade later, itself speaks for his great ambitions of making India a global electric vehicle hub.
Ola Electric Scooter Variants & Specifications
| | | |
| --- | --- | --- |
| Specifications | Ola S1 | Ola S1 Pro |
| Battery Output | 2.98 kWh | 4.97 kWh |
| Riding Range | 121 km | 181 km |
| Charging Time | 4 hours 48 mins | 6 hours 38 mins |
| Top Speed | 90 kmph | 115 kmph |
| Riding Mode | Normal, Sport | Normal, Sport, Hyper |
| Cruise Control | No | Yes |
| Voice Assistant | No | Yes |
| Hill Hold | No | Yes |
| Colors | Five | Ten |
| Price | ₹85,9099 | ₹1,10,149 |
Ola e-scooters are specifically designed to fit all age groups as well as all genders. Thus, with a smart and elegant appearance, and with unique body styling and accents, Ola Electric Scooters are gender-and-age-agnostic. As more advanced versions are being launched, Ola promises to bring its consumers products with better high-end features.
Ola Electric Car
After the success of Electric Scooters by Ola, the Ola Company is all set to launch its first flagship Electric Car by the year 2023. The most awaited automobile feature is to be manufactured at Ola's Future factory. 
Bhavish, the 35-year-old owner of the company, is hopeful of expanding his vision as well as the company's growth potential by introducing the electric car. He said, "Car will be there soon. Right now we're focused on getting our scooter out but we are working on our car. It'll be out in 2023".
Can you guys keep a secret? 🤫🤫 pic.twitter.com/8I9NMe2eLJ

— Bhavish Aggarwal (@bhash) January 25, 2022
Switching to Electric vehicles, including electric cars and e-scooters, is the future of the automobile industry from around the world. Mr. Aggarwal aims to produce products that can serve for a long period of time. His vision is to be named among India's high market shareholders if the country goes electric by 2025.
With the same approach in mind, the Ola Company is all set to soon bring forward its new invention of electric mobility, the Ola electric car. Recently, CEO Ola of what the car will look like.
Ola Electric Car Design & Concept
After being able to fascinate people with electric scooters, Ola is working hard to bring the newest innovation to reality. The teaser image dropped by Ola CEO, promises the design of the car to be very stylish and futuristic with elements of minimal and subtle details including large wheels, an extended windshield, rear haunches, and a light strip.
Compact But Large Cabin
The forthcoming Ola car is anticipated to have a compact cabin with sporty seats and a 360-degree glass panel, providing passengers with a large cabin and a spacey vibe.
Influenced By Tesla's Design
Tesla is reported to have been working on its small electric hatchback designs, replacing the Tesla Model 3. The teaser image shows the Ola Electric Car to have a somewhat similar design. Thus, it could be said the design is inspired by Tesla's design.
Further Expected Features
Ola Electric Car may include sporty alloy wheels, a clean sheet design, attractive LED taillights, and a sophisticated production model as further expected features of the latest electric automobile feature, the Ola Electric Car.
OLA – The New Innovation
Presenting the future at your doorstep, Ola promises to outshine the field of mass electric mobility by bringing forward aspects of innovations with the latest equipped technologies at hand. Ola Electric is here to redefine benchmarks with a mission to reject petrol and fully commit to electric to preserve climate change.
How to book Ola electric scooter online in India
Author Bio:
Mariyam Altaf is an Outreach Manager at Ebridge, a software company in Islamabad, Pakistan. She looks after all the publications and outreach queries regarding business. Also, he has a passion to serve blogs with his expertise in the form of write ups.